Stutzfamily.com>Travel Pictures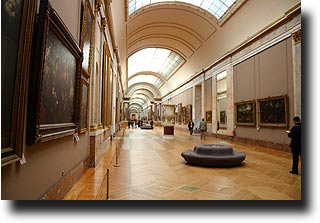 Whoa. We're talking HUGE. Months could be spent in here.
We had a day.

One of the biggest draws is, of course, her majesty...

and everyone wants a piece of her!
Apparently it is no longer illegal to take flash pictures - no one was yelling at the tourists to stop!
---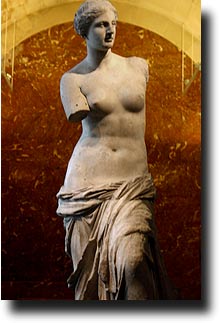 And the Venus de Milo - what a work of art. Actually 3 pieces joined together. Tthe only reason we know that is because Susan read it on one of those info sheets (see her in the background?).
---
(top left)
Winged victory

(top right)
Cupid and Psyche hard at work

(left)
The three graces
---

But, as an ancient history teacher, the big draw for me was the really old stuff

Cuneiform, Hammurabi, Gilgamesh, Baal - this early near eastern stuff is great, especially considering we are studying it right now in my classes!
| | |
| --- | --- |
| We saw beautiful mosaics from every period of early history, and gigantic pieces of Babylonian palaces | |
It was sobering to note just how much "stuff" had been taken by the early archaeologists - and how much they had wrecked in the process. We saw rooms full of just statue heads (no bodies) and wall carvings that had only the king's face - all the rest had been discarded. We'd talked in class about how modern digs concentrate on preseving and studyng everything, but much of the Louvre collection dates from a different era indeed...
---
| | |
| --- | --- |
| | The Egypt section was huge, with an enormous room dedicated to just empty coffins. I liked the accompanying figures, myself. |