Our hotel was located right on the main shopping strip of town, but was refreshingly quiet. The noisiest thing around was the talking bird that kept Susan very entertained every time she walked by!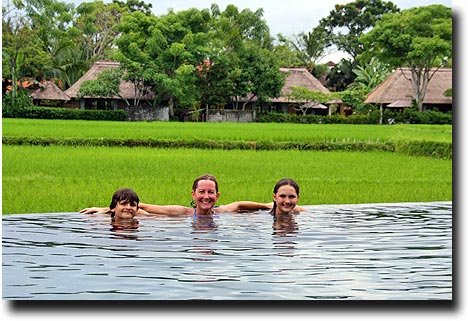 Of course, it helped that there were two pools for us to enjoy, one of which looked right out over the neighboring rice paddy. This was the 'salt water' pool, where the water actually spilled over the edge into a collection gutter, giving the impression of directly watering the rice.

The resort itself had winding paths, meditation centers, massage rooms, and was just a pleasant place to let all the cares and worries of the world ease away...


Every morning on our way to breakfast, we rounded a corner that looked out into another set of paddies which sometimes actually had the local farmer and his cows working in the thigh-high muck. On our last morning, the clouds burned away enough to see the volcanic cone that towers over the entire valley.