We hired a driver to get from Sanur to Amed. Along the way, we stopped at the Bat Cave Temple.

The bats that fly around are, supposedly, eaten by a giant snake by the name of Naga Basuki living in the cave. We didn't see the snake, but he must not have been hungry, because there were thousands of bats hanging around on the walls!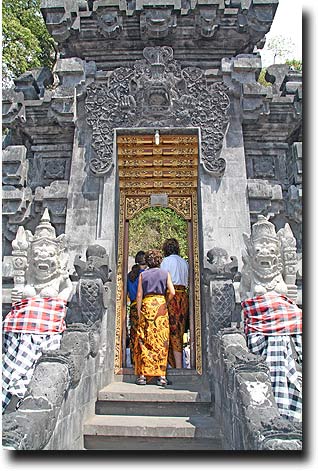 The Bat Cave Temple (Pura Goa Lawah) is old and of great significance to the Balinese.

We happened across a ceremony and enjoyed watching the Balinese pray, reflect and appease the spirits. While nominally Hindu, Balinese are mostly animist. They put offerings out every morning, on a high perch for the good spirits and on the ground for the bad spirits. This dualistic balance of good and bad defines the life of the Balinese.