(Of course we couldn't help but interact with the local wildlife a little)

Misnomer 101 - the Monsoon Palace surrounded by cactii...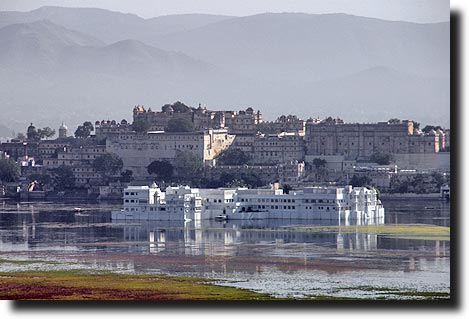 Lake Pichola itself is man-made, so is always shallow. It dries up completely during droughts. The monsoon in 2006 was very good, but the past two years have seen minimal rain. The lake is beginning to dry up, and we could see how silted it had become from erosion as we stood on the hilltop. We enjoyed the rest and hikes during our stay, but our time was winding down and we had to return for our final sightseeing in Udaipur.
Piers took us on a delightful hike the morning we had to leave. A father and two sons from Ahmedabad also joined us. We went up to a hill and looked over Lake Pichola and Udaipur.

Despite the bright morning sunlight, we had a beautiful hike in the foothills below the Monsoon Palace.