Stutzfamily.com>Travel Pictures
Serbia
Sisters' trip
Slovenia: Bled History
Front Page - Belgrade Welcome - Belgrade: Kalemegdan - Belgrade: Downtown - Belgrade: Topcider Park - Belgrade: Sveti Sava and the Ethnographic museum - Slovenia: Samobor - Slovenia: Ljubljana - Slovenia: Bled History - Slovenia: Bled Church - Slovenia: Predjama and Postonja - Croatia: Rovinj B & B - Croatia: Exploring Rovinj - Croatia: Pula Amphitheater - Croatia: Pula City - Croatia: Karlovac - Belgrade: Last Day
---

After a long wonderful day in Ljubljana we drove the hour to Bled where we had a bed and breakfast set for two days.


We found our hotel/Villa without a glitch and settled in.

The scenery was something and Nathan enjoyed his first glimpse of the Alps.

Our day in Bled was so full of fun and adventure that it is hard to decide where to begin!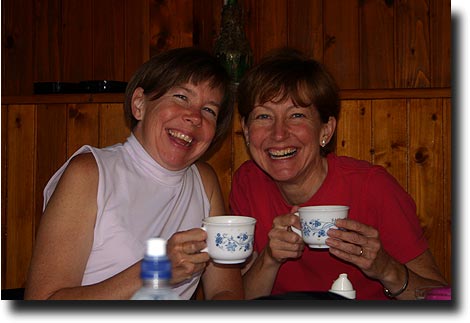 We enjoyed breakfast and exceptional coffee in our b&b outdoor 'hut'

and immediately hit the doors of Bled's wonderful 9th century castle.
---
Breck and Nathan had to flex their muscles to lift some of the medieval weapons

and all three of them exercised eye muscles looking for the bills tucked away inside the statues on the church's alter.
The kids were completely enthralled with their hands-on exploration of the printing press,
| | |
| --- | --- |
| | and museum. |

Sister's Trip Front Page - Belgrade Welcome - Belgrade: Kalemegdan - Belgrade: Downtown - Belgrade: Topcider Park - Belgrade: Sveti Sava and the Ethnographic museum - Slovenia: Samobor - Slovenia: Ljubljana - Slovenia: Bled History - Slovenia: Bled Church - Slovenia: Predjama and Postonja - Croatia: Rovinj B & B - Croatia: Exploring Rovinj - Croatia: Pula Amphitheater - Croatia: Pula City - Croatia: Karlovac - Belgrade: Last Day
---
back to the Serbia page
back to the Croatia page
back to the Slovenia page