Stutzfamily.com>Travel Pictures
Serbia
Sisters' trip
Slovenia: Samobor
Front Page - Belgrade Welcome - Belgrade: Kalemegdan - Belgrade: Downtown - Belgrade: Topcider Park - Belgrade: Sveti Sava and the Ethnographic museum - Slovenia: Samobor - Slovenia: Ljubljana - Slovenia: Bled History - Slovenia: Bled Church - Slovenia: Predjama and Postonja - Croatia: Rovinj B & B - Croatia: Exploring Rovinj - Croatia: Pula Amphitheater - Croatia: Pula City - Croatia: Karlovac - Belgrade: Last Day
---
| | |
| --- | --- |
| Having exhausted what we could of Beograd, and having said adios to Dave as he left for a World Cup soccer match in Germany, it was time to hit the road and launch the official 'tour'. We all squeezed into the Skoda and high-tailed it to Croatia and Slovenia. We made excellent time and pulled into the lovely town of Samobor for lunch. The roof and windows of our café was almost caving in from the sheer weight of all the flowers! | |
A little creek with a quaint bridge ran right outside the patio. In this idyll setting we introduced Carla to Karlovacko (my favorite Croatian beer) and Nathan to plescavica (huge flat hamburgers). Both would serve us well for the next week and a half.
---

Just outside Samobor was our first Croatian castle: Vugrinscak. Built around 1230, it is now a fantastic dishabille of ruins that beg to be explored.
We hiked to the hill top where it is perched and climbed, crawled, ran and stalked all around the interior.
Exhausted and knowing we left the castle thoroughly invaded, we settled back into our noble Skoda and forayed on to Ljubljana, Slovenia.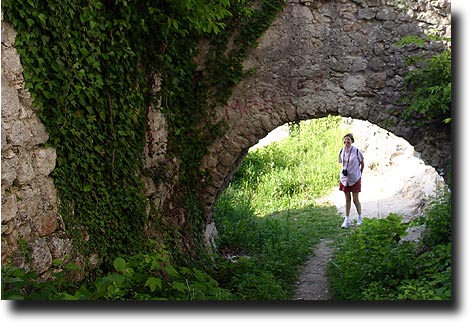 ---

We made good time and pulled into our hostel just in time for a hand-washing before hitting downtown for pizza.

Sister's Trip Front Page - Belgrade Welcome - Belgrade: Kalemegdan - Belgrade: Downtown - Belgrade: Topcider Park - Belgrade: Sveti Sava and the Ethnographic museum - Slovenia: Samobor - Slovenia: Ljubljana - Slovenia: Bled History - Slovenia: Bled Church - Slovenia: Predjama and Postonja - Croatia: Rovinj B & B - Croatia: Exploring Rovinj - Croatia: Pula Amphitheater - Croatia: Pula City - Croatia: Karlovac - Belgrade: Last Day
---
back to the Serbia page
back to the Croatia page
back to the Slovenia page