Stutzfamily.com>Travel Pictures
Serbia
Sisters' trip
Slovenia: Predjama and Postonja
Front Page - Belgrade Welcome - Belgrade: Kalemegdan - Belgrade: Downtown - Belgrade: Topcider Park - Belgrade: Sveti Sava and the Ethnographic museum - Slovenia: Samobor - Slovenia: Ljubljana - Slovenia: Bled History - Slovenia: Bled Church - Slovenia: Predjama and Postonja - Croatia: Rovinj B & B - Croatia: Exploring Rovinj - Croatia: Pula Amphitheater - Croatia: Pula City - Croatia: Karlovac - Belgrade: Last Day
---
| | |
| --- | --- |
| Our third day in Slovenia brought yet another castle, Predjama, and a series of UNESCO caves. Susan and kids had been to the Skocjan caves with her brothers the past April, but we had not done the train tour through Postonja or seen the infamous and famous proteus anguinus. We were happy to return to one of the most unique castles in Slovenia and to discover a new element to the fabulous cave system we had first explored a year ago. | |
Predjama Castle is hewn out of the rock wall of a cliff.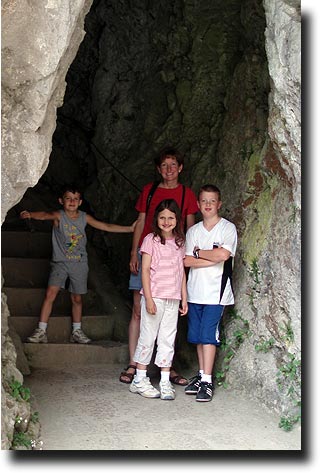 | | |
| --- | --- |
| Caves inhabited by prehistoric people dot the cliff side and it was in these that Predjama Castle was first 'constructed' in the 12th century. | The Castle has been faithfully restored to resemble what records suggest it looked like in the 15th century. |
---

The stalactites were stunning; white and creamy and lustrous as pearls.


Postonja complex includes a train ride through 2/3 of the cave with final exploration on foot.


And it was COLD! We all wore our jackets yet were still shaking in our shoes by the time we emerged back into the sun. (Regardless, it didn't take much time to warm up enough to enjoy another ice cream!)


We also saw little proteus – a white eyeless animal that exists only in the karst caves of this region.

Sister's Trip Front Page - Belgrade Welcome - Belgrade: Kalemegdan - Belgrade: Downtown - Belgrade: Topcider Park - Belgrade: Sveti Sava and the Ethnographic museum - Slovenia: Samobor - Slovenia: Ljubljana - Slovenia: Bled History - Slovenia: Bled Church - Slovenia: Predjama and Postonja - Croatia: Rovinj B & B - Croatia: Exploring Rovinj - Croatia: Pula Amphitheater - Croatia: Pula City - Croatia: Karlovac - Belgrade: Last Day
---
back to the Serbia page
back to the Croatia page
back to the Slovenia page