Stutzfamily.com>Travel Pictures
Serbia
Sisters' trip
Croatia: Rovinj B & B
Front Page - Belgrade Welcome - Belgrade: Kalemegdan - Belgrade: Downtown - Belgrade: Topcider Park - Belgrade: Sveti Sava and the Ethnographic museum - Slovenia: Samobor - Slovenia: Ljubljana - Slovenia: Bled History - Slovenia: Bled Church - Slovenia: Predjama and Postonja - Croatia: Rovinj B & B - Croatia: Exploring Rovinj - Croatia: Pula Amphitheater - Croatia: Pula City - Croatia: Karlovac - Belgrade: Last Day
---

After tramping through the caves, we were ready for a longer haul in the car to the Croatian coastal town of Rovinj, where we had a sea-side bungalow ready and waiting for us. We got there in good time (thank you, 20 questions!!).

However, Susan was so hungry she couldnít wait to find the hotel. She insisted on a stop at an adorable pizzeria where a fabulous dinner, cold beer and a world cup soccer game were thoroughly enjoyed. The kids stretched and admired the lovely murals painted on the restaurantís patio walls and the flowers hung from the terraces.
Susan had arranged a stay at the Villas Rubin right on the sea side. Always a little worried about what you got when you ordered it over the internet, she was overjoyed at the cute, clean cabin and Mediterranean surroundings.
We donned our swim suits and hit the Adriatic. The beach was full of smooth rocks that jutted out to the sea and was covered with small pebbles. We were able to see tons of little fish swimming in and around the rocks (they nibbled our toes!). It was not high tourist season, so the beach was pleasantly quiet; lots of Italian and Croatian families running around with their kids, just like us!
We swam and played to our heartsí content, then got out and decided it was time for a good old fashioned archery contest. Both Nathan and Breck got bulls-eyes with the bows and arrows they got at the Predjama castle. Well done!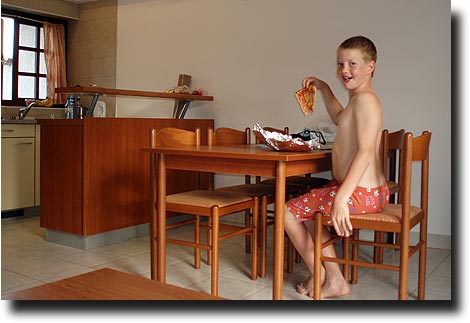 Not so appreciated were the sea gulls that were overly confident and snatched any scrap of food we left on our patio picnic table!

Sister's Trip Front Page - Belgrade Welcome - Belgrade: Kalemegdan - Belgrade: Downtown - Belgrade: Topcider Park - Belgrade: Sveti Sava and the Ethnographic museum - Slovenia: Samobor - Slovenia: Ljubljana - Slovenia: Bled History - Slovenia: Bled Church - Slovenia: Predjama and Postonja - Croatia: Rovinj B & B - Croatia: Exploring Rovinj - Croatia: Pula Amphitheater - Croatia: Pula City - Croatia: Karlovac - Belgrade: Last Day
---
back to the Serbia page
back to the Croatia page
back to the Slovenia page