Stutzfamily.com>Travel Pictures
Serbia
Sisters' trip
Croatia: Karlovac
Front Page - Belgrade Welcome - Belgrade: Kalemegdan - Belgrade: Downtown - Belgrade: Topcider Park - Belgrade: Sveti Sava and the Ethnographic museum - Slovenia: Samobor - Slovenia: Ljubljana - Slovenia: Bled History - Slovenia: Bled Church - Slovenia: Predjama and Postonja - Croatia: Rovinj B & B - Croatia: Exploring Rovinj - Croatia: Pula Amphitheater - Croatia: Pula City - Croatia: Karlovac - Belgrade: Last Day
---

Our last day on the road was a long day of driving. We enjoyed the lovely scenery, though, as we wound around the Istrian peninsula and headed toward Zagreb. The looooooong tunnels freaked all of us out.
We stopped for lunch in Karlovac and wandered the side streets to get our energy out. We saw a sign for 13th century Dubovac Castle (our 7th!!), so we detoured a bit and found a delightful 'estate' high up on a hill overlooking the valley.
The castle is in the process of being restored. It was being set up for a wedding, complete with red carpet and white stain bows.
Two nice young historians, who wanted to practice their English, gave us undivided attention as we explored the place.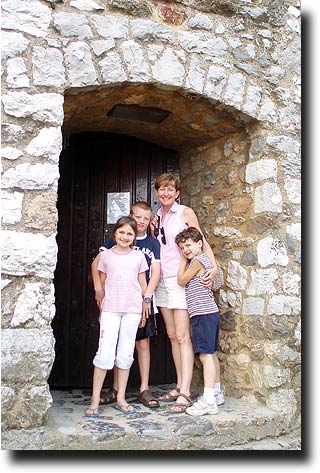 Sister's Trip Front Page - Belgrade Welcome - Belgrade: Kalemegdan - Belgrade: Downtown - Belgrade: Topcider Park - Belgrade: Sveti Sava and the Ethnographic museum - Slovenia: Samobor - Slovenia: Ljubljana - Slovenia: Bled History - Slovenia: Bled Church - Slovenia: Predjama and Postonja - Croatia: Rovinj B & B - Croatia: Exploring Rovinj - Croatia: Pula Amphitheater - Croatia: Pula City - Croatia: Karlovac - Belgrade: Last Day
---
back to the Serbia page
back to the Croatia page
back to the Slovenia page