Stutzfamily.com>Travel Pictures
Serbia
Sisters' trip
Exploring Rovinj
Front Page - Belgrade Welcome - Belgrade: Kalemegdan - Belgrade: Downtown - Belgrade: Topcider Park - Belgrade: Sveti Sava and the Ethnographic museum - Slovenia: Samobor - Slovenia: Ljubljana - Slovenia: Bled History - Slovenia: Bled Church - Slovenia: Predjama and Postonja - Croatia: Rovinj B & B - Croatia: Exploring Rovinj - Croatia: Pula Amphitheater - Croatia: Pula City - Croatia: Karlovac - Belgrade: Last Day
---

We spent a delightful day exploring Rovinj, a small town on an isthmus in the Adriatic.

This picture of the three kids in the market is Susan's favorite of the whole trip.
We ate the littlest pears we had ever seen; beans and carrots, too, fresh from the market, as we wandered the cobbled streets.
---
| | |
| --- | --- |
| | Of course, we had to stop and have ice cream after a shopping spree in a local sculpture shop. |
---
Nathan and Carla were especially intrigued by St. Euphemia Church. Built in the 17th century, it houses the remains of the martyred Saint, whose coffin mysteriously showed up on shores of Rovinj in the 800s.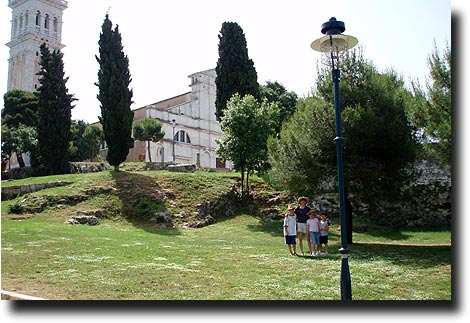 ---
We were dripping from the heat and were thrilled to find the Rovinj aquarium air-conditioned. We spent a couple hours playing hide and seek with all the fish and exotic sea species in the tanks.

Cooled and restored, we hit the beach once more
and then had dinner at a fabulous restaurant down the road from our Villa. There was a wood-fire clay oven that baked Carla's pork dinner and Nathan's grilled veggies.


Susan ALMOST regretted getting her favorite pizza (not really!).


Sister's Trip Front Page - Belgrade Welcome - Belgrade: Kalemegdan - Belgrade: Downtown - Belgrade: Topcider Park - Belgrade: Sveti Sava and the Ethnographic museum - Slovenia: Samobor - Slovenia: Ljubljana - Slovenia: Bled History - Slovenia: Bled Church - Slovenia: Predjama and Postonja - Croatia: Rovinj B & B - Croatia: Exploring Rovinj - Croatia: Pula Amphitheater - Croatia: Pula City - Croatia: Karlovac - Belgrade: Last Day
---
back to the Serbia page
back to the Croatia page
back to the Slovenia page