Stutzfamily.com>Travel Pictures
Pakistan
| | |
| --- | --- |
| A nuclear power with a literacy rate of less than 50%. Home to some of the earliest of civilizations, yet unable to forge peace with her neighbors. This country of contradictions reminded us powerfully of many of the advantages we take for granted in our own lives and of the beauty inherent in all people. | The Badshahi mosque in Lahore |
The openness and willingness to meet and help travelers in their country set the Pakistanis apart during our stay there. Old men at tea houses gladly shared food and drink with us, in return for just a bit of conversation.

So of course we did our best to fit right in!!

The smiles of the people were everywhere, from this girl and her younger brother on the Afghani border...


To these boys in the wild west town of Peshawar

and this proud tribesman in the Northwest Frontier Province
Life in the big cities (we were in Lahore) was a curious mix of the familiar and fantastic

Tomb-mosque in Multan with the famous blue edging

---



Inside the Wazir Khan mosque in Lahore


On the way to evening prayers in Shalimar Gardens

---


A mural of Shah Jehangir in Shaikhpura

---



Playing cricket at school
We were lucky enough to be invited to several weddings
| | |
| --- | --- |
| Here a new bride, looking dutifully downcast about the prospect of leaving her family, is escorted from her home | Susan's classroom assistant also got married in a lavish Christian ceremony |
Once we got out of the big cities, life in the mountains was an entirely different prospect: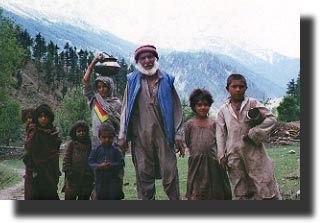 We met this family in the Swat valley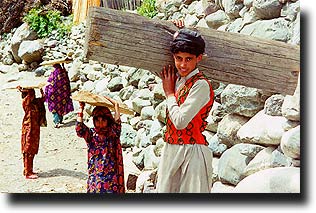 Working hard in Swat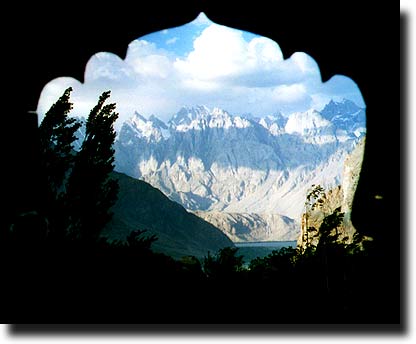 A spectacular view of the Himalayas from an abandoned palace north of Skardu
Peshawar was perhaps the most wildly colorful city we visited. Near the Afghan border, it was swollen with refugees
| | |
| --- | --- |
| For many Pakistani women life exists behind the veil of purdah. These women in Peshawar are covered head-to-toe in a garment called a burka that keeps any male eyes from glimpsing the secrets within... | An old man examining Afghani jewelry in a Peshawar shop |
The transportation around Pakistan was full of color, noise, and smoke!
| | |
| --- | --- |
| A row of buses waits at the Rawalpindi bus station | The view from inside a Pakistani bus. The women all had to sit in the front section, the entire inside and outside were decorated and painted, and the driver (yes, that's him on the right) keeps a close watch on the goings on. |

Dave en route to the Khyber Pass
Special Excursion!! Come visit a Pakistani rug making factory
Travel Pictures index:
To the Stutz's Welcome Page