Stutzfamily.com>Travel Pictures
The Brothers Do the Balkans
Kalemegdan Fiesta
We were fortunate to hit the down town area during Belgrade's first annual Renaissance Festival. Troupes of archers, jousters and 'professional' knights from Hungary, Slovakia, Serbia, Macedonia, Slovenia and Czech Republic descended on Belgrade for a huge tournament. Breck and Alea were thrilled with the assortment of accouterments the knights carried and spent quite a bit of time checking it all out...
---
There was a parade that wandered through Kalemegdan which showed costumes from the Roman times to the present. From left to right, we have the Roman centurion (300 ce), the Austrian/French influence (1790 ce) and the Turkish Pasha (1650 ce).
---
A parade of the more modern variety followed the costume parade, Here, proud young Serbian batonists stroll their stuff. Breck was fascinated by the archery competition. He received Robin Hood for his birthday in January and it was the highlight of his day to see the real thing. We were all amazed at the distance between the archers and the target. These photos make it seem close - but they were at least 200 yards away (two football fields) and we saw two bulls eyes!!
| | |
| --- | --- |
| | |
| Dave and Nancy had a contest to see who could capture the most old faces on camera | |
| | |
| I like the one of the ice cream boys myself (interestingly enough, I took it), but Nancy's picture of the old man below is my favorite of the old folks... | |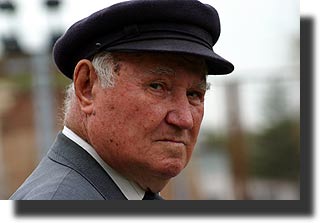 ---
| | | |
| --- | --- | --- |
| | We all needed a lunch break after walking the entire length and breadth of Kalemegdan. We hit the Terrace by the zoo for lunch and enjoyed typical Serbian food: mixed grill, Shopska salad (cucumbers, tomatoes, onions and feta), and chorba (veal soup). | |
---

Back to the Serbia page...