Stutzfamily.com>Travel Pictures
The Brothers Do the Balkans
Two Churches and a Princess's Mansion
| | |
| --- | --- |
| The Chapel of Saint Petka and the Church Ruzica greeted us with delightful frescoes and mosaics. We drank the holy water and explained the Orthodox tradition of lighting candles for the ill on the upper story and the dead on the bottom. | The water from the spring under the chapel has 'restorative' effects and folks line up to take a swig. More importantly, it was a spring that supplied water to the citadel when it was under siege (which has been often in its long history). |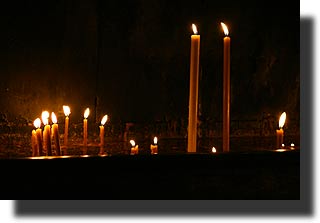 ---
The weather had been gorgeous up until about 3:00. Then, an incredible wind blew through which brought storm clouds. We hit a deluge just as we entered Kneza Mihailova (the walking street). We dashed into a cafe and sat it out for about ten minutes. When the rain abated, we dashed to the Princess Ljubica mansion museum and the Cathedral of St. Michael.
| | | |
| --- | --- | --- |
| These vaults are under the Ljubica mansion. Princess Ljubica's husband was Prince Milos, of Serbian independence fame. The Prince never resided here because it was too close to Turkish intrigue. His mansion is out near Topcider Park (where we live). This mansion is in typical Balkans/Turkish style - similar to the home the school has rented for us:) | | The Cathedral of St. Michael was built between 1837 and 1840. Vuk Karadzic, reformer of the Serbian language, is buried in the front of the church. |
---

Back to the Serbia page...