Stutzfamily.com>Travel Pictures
Cyprus
Paphos
Paphos was our favorite town to just stroll through. Besides the shore area, with its lookout castle, the city center boasts a site that has 2 ancient and 1 "modern" basilicas (and tons of exposed mosaics, like the one below). That doesn't include the sprawling ruins that are one of its most famous draws.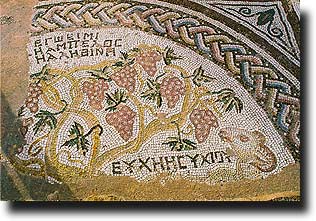 While wandering the museum areas in Paphos, we came across an elderly man gently washing one of the mosaics littering the site. Breck was entranced by the work, and the man invited him to help. Breck got a first-hand lesson in the basics of mosaic care from an expert!
---
The so-called "Tombs of the Kings" are a series of funeral tombs, some carved into the sides of small cliffs and some created in man-made mounds. They are situated right on the shoreline (across the street from a good little resturant), and gave the kids lots of opportunities to run, play, and in Breck's case, take a little rest!
We wandered around the old city for the better part of a day, and in the evening visited the catacombs that religious hermits still occasionally use today (and where Dave fell into hip deep water in the dark). We climbed a hill overlooking the town, drank vodka with 2 Russian sailors up there, and watched the sunset on a gorgeous spring evening.

Cyprus front page
In the beginning - Ruins, Ruins - Paphos - The last days