Stutzfamily.com>Travel Pictures
Roatan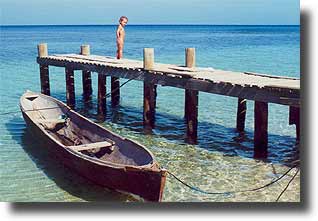 But, once we got past the initial shock, we decided to just jump in and enjoy the trip. After all, the water was still clear, blue, and warm, the sand was white, and it certainly was easier to take things easy with all the modern convieniences around (which is a good things with little kids!!). Breck and Alea both took the directive 'jump right in' literally! In fact, on one occasion, we actually lost Breck, only to find him wandering the beach. It seems that both of our kids are natural born beach bums!!
The days just kind of flowed into one another. We'd usually wander down to the end of West Bay to play in the water and snorkel first thing in the morning. That is where the snorkeling is best, the crowds thinnest, and the little schools of fish thickest. Since we were usually up with the sun, this was a nice mellow start to our day.
Breakfast would follow, always served with a 'family touch.' On Easter morning, for example, we all got colored eggs served on a nest of grass. Those went over well, almost as well as the flowers that Dave told Alea were OK to eat. She had 3 of them the first morning and refused to eat anything else for breakfast!!


| | | |
| --- | --- | --- |
| | | |
| And then the morning activities would continue. On several mornings we went over to West End for shopping and kitty-petting, we'd always spend at least an hour in the water splashing, and the rest of the time Breck devoted to scoping out the chicks. | | |
To the main Travel Pix page
To the Stutz's Welcome Page