Stutzfamily.com>Travel Pictures
Roatan
| | |
| --- | --- |
| | Thursday dawned clear and beautiful, and everyone was excited to get on the road. Our plan for the day involved driving to Tela, eating lunch on the beach, going on to La Ceiba and catching a ferry from there to the island of Roatan. We had reservations at a resort there and we were eagerly looking forward to four days of sund, sand, and surf. The drive to Tela is always pleasant - a good road through rolling hills surrounded by banana plantations. We ate our breakfast/lunch at the Telamar hotel and watched all the beachgoers gearing up for a day of relaxation. |
Sidebar - Life in Honduras.
OK, so everything about this part of the trip wasn't peaches and cream. Way back in February, Susan had made reservations for the truck rental and bought the airplane tickets. The truck was a one-way rental to La Ceiba and the flights for Susan to Roatan were on Friday. Our original plan had been for Mark, Jennifer, and Dave to drive to La Ceiba on Thursday, do some kayaking there, and then ferry over on Friday. Susan and the kids were just going to fly directly from San Pedro on Friday, and we would all fly back to San Pedro on Monday morning. All these arrangements were in writing (just keep that in mind).
When Mark and Jennifer went to pick up the truck, however, they were notified that, unfortunately, the office in La Ceiba just happened to be closed on the coming Thursday, so they would have to return the truck to San Pedro. Why the company had made the reservation knowing this was never really explained. So that threw one wrench into the mix.
The next wrench got tossed in after the trip to Omoa. We got a call from our travel agent, who was apologizing profusely. The airline had decided, less than a week before departure, to cancel its flight on Friday to Roatan. Again, no real explanation was given. Since Semana Santa is the number 1 travel week in the country, it suddenly became an interesting dilemma for us: how were we going to be able to get to the islands? We called our hotel, and they were able to get us booked for Thursday (a day earlier than we'd reserved). So we decided to all drive to La Ceiba and take our chances on getting a ferry across. As everybody here says, "That's Honduras."
---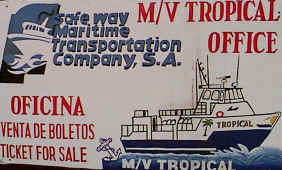 We made it without incident to La Ceiba, stood in a crazy set of lines for the ferry across (first come, first served on one of the busiest travel days of the year), and even had time for a snack and some tabletop dancing before boarding the boat. Oops.

The first thing that the crew started doing once passengers were on board and the boat started moving was handing out plastic bags - not a good sign. We soon found out why. On the coast, things were just fine, but out on the blue water, the wind was whipping the seas up into quite the chop. Which meant the boat started rocking. Which meant that people started getting sick. Which started with the youngest kids. Of which we had two. Who had just eaten peanuts and drank chocolate milk. Oh what a mess.

After an hour and a half of rolling, pitching, puking, crying, 100 degree hell, we docked at Roatan. "Welcome to Paradise." Of course, everyone was perfectly fine after about 5 minutes on shore, but that sure wasn't the introduction we'd wanted to the islands. Oh well.
---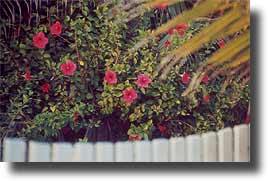 We found a taxi right off who we got a fair fare with and headed across the island to Bananarama. We were pretty happy to get there and get ourselves settled in. It is a cabaña-based resort that usually caters to divers. A German husband and wife team run it, and since they also had 2 young kids, we spent quite a bit of time playing with them in their front yard.

The grounds were flowered and treed, with hammocks strung around for those afternoon naps, so while everybody got their gear stowed away, Alea, Breck, and Dave sniffed out the surroundings.