It is that wonderful day in December when we sit down, read all our holiday letters from the past 10 years, marvel at our family's blessings, and get ready to write another greeting!

2007 finds us celebrating the holidays in Mumbai, India. We moved here in August to begin working at the American School of Bombay. Dave teaches 6th and 8th grade math/technology and Susan teaches 1st grade. Alea is in 5th grade and Breck is in 3rd grade.

As per our 'format', we'll begin in January and work our way through the year...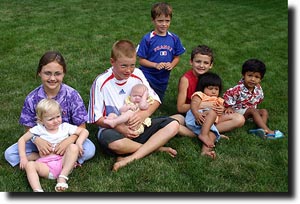 January started out with Susan and kids in the USA enjoying a year with extended family while Dave was completing a year in Belgrade, Serbia as Assistant Principal. Dave came to Minnesota for a wonderful three weeks during the holidays and the family enjoyed snow, sledding, ice fishing, and time together. We think the most important part of January was interviewing for and accepting positions at the American School in Bombay, India. We had several 'conversations' with the director and his wife and agreed India could be a good place for the family to be. We were on the countdown to August from the day we signed our contracts.
Everyone knew we had to ski while in Minnesota given the fun we had in Jahorina, Bosnia last year. Afton Alps wasn't quite like the real Alps, but we still had a fabulous time with Uncle Bill, Aunt Carla, Nathan, and Aiden on the slopes.
Grandpa's cabin is a very, very special place and we so appreciate that we have this snug haven to gather as a family. We love the sauna (Grandpa dumping snow on us afterwards!), fishing, snowmobiling, card games, French toast breakfasts, fondue dinners, sledding, skating, hiking, biking, and lots of time playing with cousins.
Dave made it back to the USA in June, and we spent our summer driving out to Utah to visit great grandpa and great grandma Stutz, frolicking at Lagoon with the Toomers (thanks, again, Aunt Karla!!), and enjoying our fabulous cabin in Rimini, Montana.
We left for Bombay at the end of July, ready for a whole host of cultural, social, physical and emotional changes. WOW! We love the school and its forward-thinking leadership, its solid curriculum, its dynamic staff, and its great benefits package. Mumbai has a lot going for it, but we find ourselves gasping for clean air, desperately seeking time out of traffic, and searching for green space in which to run.
Fortunately, we have been able to hit Matheran (a forested 'hill station'), Lonavla (a lovely town with Buddhist caves), and Goa (the best beach we have seen in years) to give ourselves breathers. We plan to visit the "Golden Triangle" of Delhi, Agra, and Jaipur over December holidays.
Alea has a man for a teacher this year and wasn't quite sure what to make of that at the start of the year. She has settled in well and really likes him now, but it took a rearranging of the mindset. She enjoys pottery and candle-making after school. She takes French, too, and loves music. Her choral group will sing carols at the Grand Hyatt next weekend. She has made new friends and is doing well.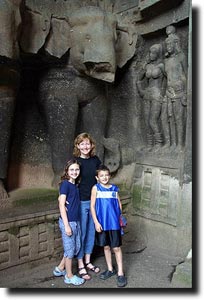 Breck has decided his favorite subject is PE. He took soccer as an after-school activity and enjoyed that a great deal. He is trying to talk Dad into hosting a baseball activity in the spring. He has discovered cricket and now has a cricket bat and ball. I'll let his father tell the story about how he got those! He continues to love the water and says a highlight of this year was finding the tide pool in Goa where the family spent hours exploring the fish, coral and sea life of the Arabian Sea.
Susan can't say enough about how much she loves first grade. She has a strong team, a great class and a wonderful Principal. Can't ask for more than that! She joined the book club at ASB, and enjoyed Pope Joan, Animal, Vegetable, Miracle, and Monique and the Mango Rains the most out of the selections read.
Dave has had to readjust himself to life with a family – quite a shift from his 'bachelor' year in Serbia. Between the hours spent playing Lego Star Wars, the evenings taken up helping with homework, and the afternoons spent supervising play dates, however, he hasn't had much time for missing last year! Classes and coaching keep him busy during the day too, and so he appreciates more and more the 'down time' of the weekends. One of the more exciting things about India for him are all the fantastic cultural things to see around us every day, and he started a blog as part of the webpage to keep family up to date. Check it out at stutzfamily.com to see just what the latest news is.
Our family is fortunate to be in this place and time. We are thankful for family, friends, health and opportunities. Our doors are always open – in India or Montana! Peace to all this Season!

---
see other Christmas letters from previous years...