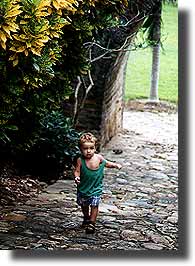 Breck had a great time exploring the ruins at Omoa. The ramps (which had been constructed to make it easier to haul cannons to the top of the fort) made a great place to run up and down.

After the fort, we went to the (pretty grungy) beach at Omoa, where he had fun splashing around.

Of course, eating opas (black olives) with daddy is almost as much fun as the beach!!