Stutzfamily.com>Breck
Yes, that is Susan trying on a pair of the kids' new sunglasses. We had a real rock and roll christmas in San Pedro Sula, Honduras, complete with a series of visits from Santa Claus, a thundering fireworks display, and a 3 week stop-in from Grandma Wagner. Relive some of the excitement of Christmas morning with us on this page, and check through some of the links at the bottom for more of the goings-on.
Our Christmas letter for the year is here...
| | | |
| --- | --- | --- |
| | Alea got things started off for us on the second Christmas present opening the morning of the 24th.. The night before, we had opened a few stocking-stuffer type gifts, but this was the kids' first opportunity to actually rip off wrapping paper. The first present was for both the kids from Aunt Carolyn - a mini accordian, just like great grandpa Hebrink plays. She also included a cassette of him playing and singing. | |
| | | |
| --- | --- | --- |
| | Breck's big break came with the old crayon boat. He loves to color - we have sheets of paper taped up all over the house and he is very good not to write on anything but them. Now all we have to do is rid him of his habit of breaking them! | |
Alea scored next with her big wish of the year: a Barbie doll set. She had actually asked for three things - a horn (which we counted the accordion for), a horse (which she got as part of a farm set later), and a doll (of which she got quite a number).
For a while, we stuck very nicely to gender roles, as Alea tended house and Breck rumbled with the dump truck.
| | | | |
| --- | --- | --- | --- |
| | But then, Breck began to make his move. He very subtlely worked his way over to Alea, hoping to 'coax' her out of the Barbie doll. Mom intercepted him and tried to distract him with just the Barbie doll shoes. But by the end of the morning, he not only had the Barbie shoe, but the doll and the cool napkin ring holder hat as well. What a great morning! | | |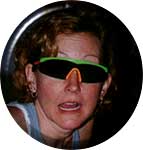 and Susan is still too cool for words!
Archive Index
Year 1 Pictures:
(Birth Year ) - Page 1 - Page 2 - April - May - June (1) - June (2) - August - September - October - November (1) - November (2) - Christmas - (Year 2)

---
Breck's Current Page