Wayne, early riser that he is, was up and raring to go by 6:30, while I was more than perfectly content to lounge until 7. We were on the road by 8, but with all the curves, bumps, cop stops, and traffic, we didn't hit Poza Rica until 11. We'd decided to go to El Tajin, and even though it was extremely hot, we had a good time exploring the ruins. Our teacher IDs got us into the site, but not the museum, but we did arrive just as the voloedores were getting set to perform.
We were awed by their 'flight,' hiked around the ruins and made what little sense we could of the lay of the land, and stopped for a pop and some water in the shade of enormous palm trees. I suppose it was kind of silly for us to be traipsing around during the hottest part of the day, but Wayne didn't seem to mind at all (but I was sure sweating!!)

---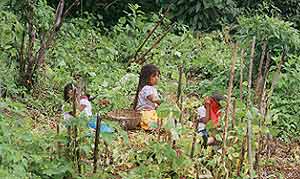 We cruised on down the road about 1, reached Veracruz just before 5, and decided to head out on the next leg. A real mix all the way down: stretches of the best roads we'd seen followed by some of the absolute worst. There was beautiful, lush, green, thick flora all along the way, though. All along the side of the road we passed people walking (with big loads of firewood), working in the fields, or waiting for buses. It made for some interesting conversation to imagine just what life must be like in a situation where your only mode of getting to the next town (or shopping, or visiting, or anything) is by waiting for a loaded down bus (that may or may not come) or striking out on your own.

---
We'd planned on staying in Santiago Tuxtla, but when we got there in the middle of a saints' parade, we couldn't find anyplace to stay. We drove out on an absolutely horrible road through San Andres Tuxtla and into Catemaco, a good sized lakefront tourist town. We found a decent hotel right downtown, and then wandered around the main square - it was really booming on a Saturday night!! I gave in to a local 'businessman' who was pestering us and bought a HUGE cigar for just under a dollar and then we ate tacos at a hole-in-the-wall along a side street.
---

Following a sample of the brew of local choice (Sol, which is lousy), we chilled out on our verandah for a bit before turning in, listening to the sounds off the streets. The only problem was, those sounds didn't stop when we went to bed!! There wasn't air conditioning in the room, so our windows had to stay open, and late Saturday night/early Sunday morning just kind of blended into one another. I tried sticking toilet paper in my ears, but it didn't really help much. Oh well.
---