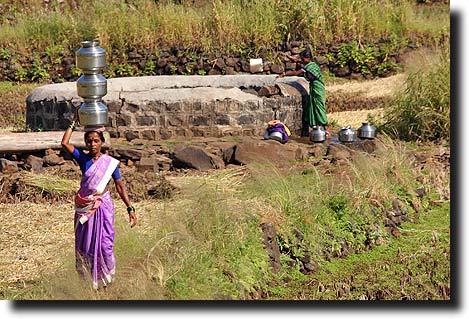 ---
Even the kids are not exempt from labor. As we left one of the schools, we came across this group of people threshing wheat. They would pick up a sheaf, walk around the barrel, and then slam the stalks against it a few times.

It was hard work, out in the direct sun, and the only respite was an occasional drink from a rain water bucket.
But the amazing thing was when we came across the same girl (the one on the green outfit above) as we were leaving the school. She was a teenager, out of school, and it looked like she was going to be destined for the same sort of labor for the rest of her life.
The women end up doing a lot of the 'domestic' work, which involves chores that we take for granted - like getting water. To the left are a few carrying the dishes from the impossible-to-see stream in which they've washed them.

Women still visit communal wells (left) or taps (above) to get water for household use, and then carry it home on their heads.