Some laundry is laid out to dry on the shoreline, as we discovered our first month in Mumbai, while other loads are colorfully hung from window balconies.

I didn't catch anyone in the act on this trip, but the scaffolding you see above is used for painting or repairs: people climb around on bamboo poles that have been lashed together, usually with no helmets, safety ropes, or shoes. Rounding the final corner, I'll follow the rickshaw to the right, past the cooking gas delivery bike, to get to my haircut haven.

It is also sleepy-time at the bike repair shop, set up in a convenient street-side location so everyone can easily get that work done!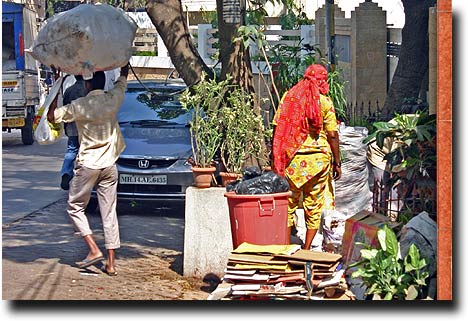 Most recycling is done by people who are technically called 'ragpickers' here: they sort through people's garbage and take those items that can be resold. We are encouraged to separate our trash into "wet" and "dry" buckets: those with food and those without. Everything in the 'dry' pile eventually gets reused in some way!