Stutzfamily.com>Travel Pictures
India
Festival of Nations and Parade of Nations
or FON and PON as they're known here...
Being a good sized international school, our international-centric events tend to get blown - if not out of proportion, then at least into the grandest of proportions. Whereas UN day has typically been a smaller sized affair at our other schools (everyone dress in your national costume or colors and bring a traditional food dish), here in Bombay it is a full blown two day spectacle.

The first day is the Festival of Nations, when groups from different countries organize and present a musical or dance production from their country. Not every nation chooses to participate in this (I think there were 7 this year), but it is a time for students to reclaim and show off a bit of their native land.


Fairly or not, the youngest kids are often the cutest performers, as Susan's pictures of the Japanese (above) and Malaysian (right) participants illustrates.



---
The next day, the entire school gathers in our multipurpose hall, festooned in face paint and folkloric costumes, to take turns marching across the stage.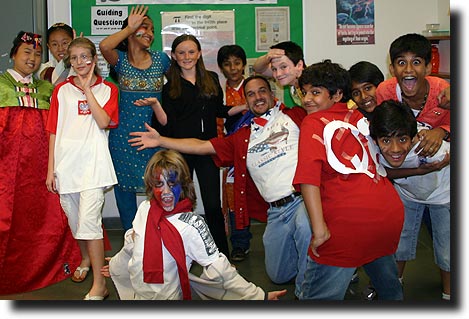 As mentioned, we are quite an international school. In my advisory section, out of 14 kids, we had 8 nationalities (from left to right - Korea, Korea, Poland, India, France, New Zealand, India, USA, UK, Kuwait, India, UK, India).
---
Led by our host country India's contingent, students and parents alike wildly applaud for their friends as each take their turn.


Each student could only pick one country to represent, and we had a total of 51 different flags come on stage. Some countries have big representations, such as Korea (below)



While others, like Armenia (right), Argentina, and Greece - to name but three - had only one student waving their flag. In many cases, students have to choose their affiliation, since so many of our kids are truly products of multiple cultures: mom may be from one place, dad another, they were born in a third, pledge allegiance to yet a fourth, and have spent most of their life traveling the world!
As a taste of what the morning is like, I've included a picture of at least one delegation from every (inhabited) continent:
Africa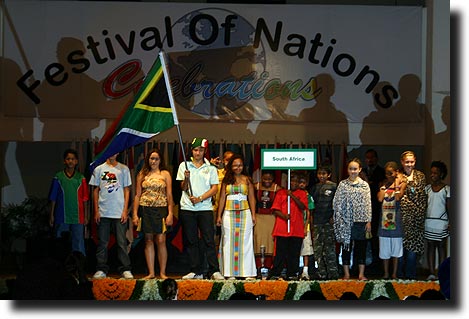 South Africa

---
Asia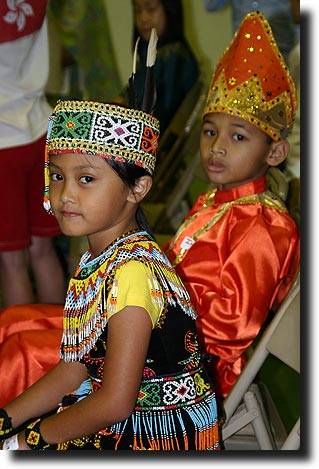 Indonesia

---
Oceania
| | |
| --- | --- |
| | |
| Australia | New Zealand |
---
Europe
| | |
| --- | --- |
| Italy (above), Norway (right), and Germany (below) | |
---
South America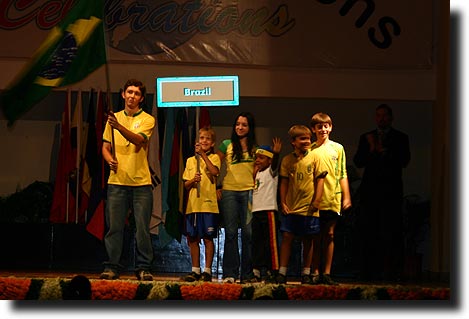 Brazil

---
North America
| | |
| --- | --- |
| | Mexico (bottom left), Canada (top left), and the USA (above) |
---
And of course the Stutz kids had to do their part!

Breck was right in the front of the USA delegation (with his Sai Baba doo rag on) while Alea was in the midst of a smiling red white and blue contingent.

And we all got dressed up and photographed as a family! Yee haw!
To the main India page
To the Stutz's Welcome Page