One of the most famous landmarks of Mumbai is "Gateway of India" - which looks all old-school British raj, but really dates from the early 1920s. It was built to welcome King Edward, but not finished in time for his arrival (so a fake front was stuck on it to make it look all majestic). It was sort of similar to the Statue of Liberty, in that it was the 'first thing' people arriving at the busy port saw.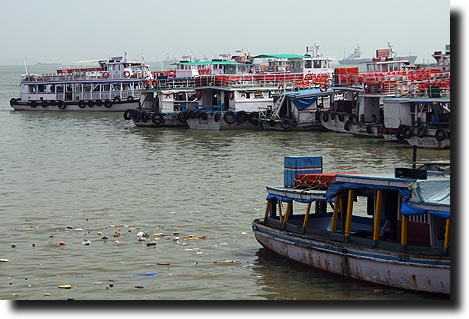 Today it is crowded with boats heading out to islands off the coast (which we will travel to at some point) and lots of beggars and people selling things. The square out in front was all torn up and under construction, so that wasn't too much fun. So, we walked around the arch, looked at all people and boats, sweated, and left.


Because it was Gandhi's birthday, most of the museums and large governmental buildings were closed. We'd heard good things about the Prince of Wales museum, but the best we could do on this trip was look at it from outside the fence and plan on returning.