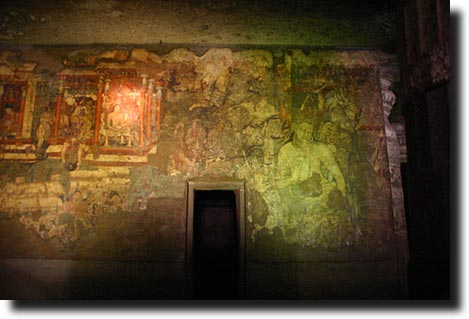 The Ajanta caves - located about 2 hours outside of Aurangabad - are a fabulous series of Buddhist monasteries that are fascinating because of the paintings inside.

Rediscovered in the early 1800s by a British hunting party, these caves retain some of the fabulous artwork that probably adorned all such rock abodes (and are given absolutely NO credit by the lousy pictures that we have posted here).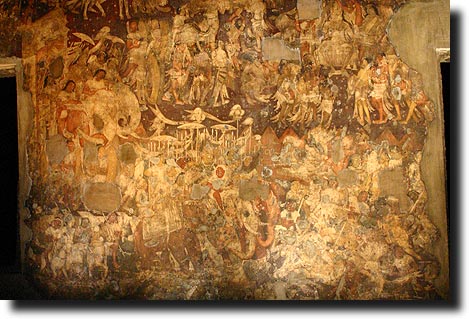 The artwork represents different stories from the Buddha's life, and since we were so happy to run, climb, look, and explore, we didn't hire a guide and thus missed out on the 'deeper meanings' behind the art.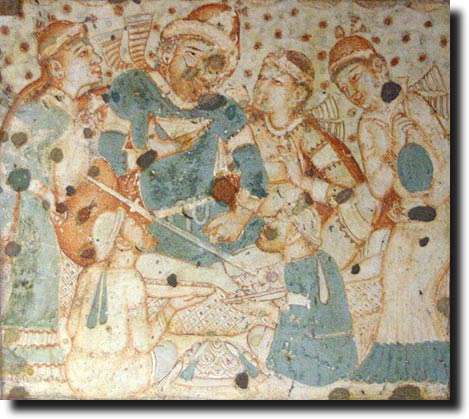 We had been warned that we'd need to have a flashlight in order to see anything, but lighting has been installed all up and down the caves, so we were able to walk and enjoy the artwork (although taking pictures was a whole different level of difficulty).

As things turned out, we got quite a kick making up our own stores for what we thought was going on in the various scenes. The caves, while solemn (and even the scene of serious pilgrimage), were cool (in a temperature sense) places for the kids to get out of the scorching February sun and enjoy the sights.