Stutzfamily.com>Travel Pictures
Austria
pictures taken with a disposable camera (ugh)
Schönbrunn Palace in Vienna is currently divided into two sections. One is for the adults who want to tour the royal apartements of the Habsburg family and the other is for the kids who want to experience what it would have like growing up royal in the 17th century. The first room on the fun side is full of costumes for dress-up (corsets and stays and wigs included). We, as you can see, had a divine time pretending to be Kings and Queens. Mom get delegated to maid status and spent the entire time hanging up clothes and lacing stays.
| | |
| --- | --- |
| One room had five wig heads and drawers full of brushes, combs, feathers, clips, and other sundry hair ornaments. Alea had quite a time creating fancy hair-dos for the big ball:) Breck, bored with all the primping and fuss, took off to the next room where he held court with the lovely Lady With the Bird Cage Hair. | |
---

Santa found us on the 25th in our hotel in Vienna. We assembled this little Christmas tree on Christmas Eve (bought at the Rathaus Christmas market) and left a plate of cookies.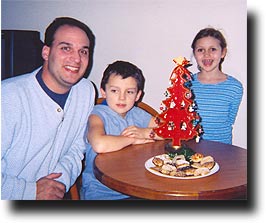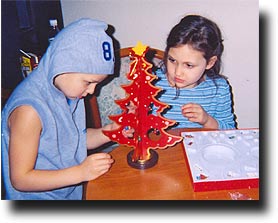 | | |
| --- | --- |
| Church dedicated to St. Charles Borromeo (his life story is carved on the two columns), which Susan found very amusing given this is the patron Saint of the town where her grandparents and great-grandparents lived for years; St. Charles, Minnesota. | There was a playground in front of the church, so we spent a great morning hanging out there letting the kids run off Christmas cookie steam. |
on the way home, we zipped back through Slovenia again - Ljubljana is definitely a city to revisit

Vienna 2004 main page - Christkindl Markt - Schönbrunn Palace - Others


Main Austria Page