Stutzfamily.com>Travel Pictures
Austria
Christkindl Markt
The main reason we went to Vienna was to visit the Christmas markets. Dave remembered them from his years in Bonn, Germany, and he wanted to share the experience with the family. We went to four different markets: Schonbrunn, Rathaus, and Mariahilferstrasse in Vienna and the Mestni Trg market in Ljubljana. We enjoyed the requisite punsch (I know now where the phrase 'to pack a punch' comes from!!), purchased some traditional wooden ornaments and partook of the not-so-traditional cotton candy for the kids.
---
A dizzy array of gold and sparkle in the christmas markets.
The beauty of the markets doesn't need words; the lovely images speak for themselves of the glittering holiday spirit...
---
Cotton candy is not a holiday tradition for most the world, but Alea and Breck would like it to be:)
---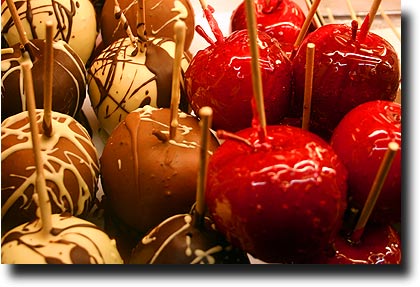 Too beautiful to eat - the sparkle and shine of these candied apples reflected the market spirit in Vienna.


Vienna 2004 main page - Christkindl Markt - Schönbrunn Palace - Others


Austria Main Page