| | |
| --- | --- |
| Taking off from Rochester, we drove smack into a snowstorm our first day out. But luckily for us, it didn't last, and we found ourselves facing the tortuous drive across South Dakota with clear weather. After we missed the McDonald's in Sioux Falls, we headed on to Mitchell, where we actually got a hotel with a pool - wow! After a relaxing morning there, we made it across the state to Wall by noon, and entertained ourselves there for a couple of hours. | Wall Drug was our first big stop - we spent 2 hours playing around |
---
Grandpa and the kids had a great time bonding

---
We then spent a delightful three days in Billings, MT. Grandpa and Grandma were gracious hosts and kept us busy. Blanche, Rob and Boyd traveled from Missoula to spend the weekend with us. We visited Zoo Montana, explored the Four Dances Recreation Area and enjoyed a visit from the Easter Bunny. Grandpa Joe's garden was beautiful, as always, and the kids had a great time playing out back. Alea and Grandma Lorna played 'school' with some classic dolls and a spent a rousing hour of dress up.
---
Breck was thrilled with the prairie dogs. He and Dave 'captured' one in the park tunnel. He has since played the 'wolf' capturing prairie dogs. He even built a prairie dog town in our sandbox today! Amazing what sticks out in a child's mind.

---
We always enjoy our time with Toddler Boyd; a cutie who loved the zoo as much as our kids.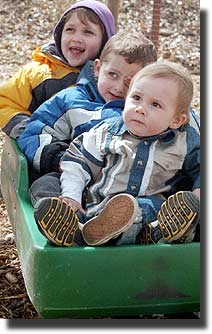 ---

Grandpa Joe and kids found a little recessed cave near the Four Dances Rec Area. We decided it was an old Indian encampment and played for awhile. The views were stunning and the rock collecting fun. Alea was not impressed by the cactus.

---
Tuesday morning meant the beginning of the long drive back to Minnesota. We wanted to see Mt. Rushmore, the Black Hills and the Badlands. We accomplished all three in good time and with fine weather (except for the attempt at camping with one blanket in 29 degrees which resulted in a hotel hop at 1:00 am a la mom's orders).
The kids' favorite public TV show of late is Liberty's Kids. It is a summary of Colonial Times and the Revolutionary War. They were both thrilled to see Washington and Jefferson on the monument. There was a small cave at the base of the President's walk; Breck crawled in and tryied to ambush other tourists. The security was tight - we were searched going into the park and several squads of military roamed around. We weren't surprised - we had been afraid the monument would be closed altogether because of the US forays into Iraq.
---

Alea attends Lincoln School and was especially thrilled to see Abraham Lincoln at Mount Rushmore (or Mount Mushmore as she calls it).
---

We rounded the corner to Mount Rushmore and were greeted by a mountain goat munching the grass. He was less than arms length out my window. A pleasant surprise!
---
The kids had a wonderful time climbing the mounds in the badlands. Alea found a real fossil! We think it might be two tail pieces from a some sea-going creature. Breck had some new binoculars and was overjoyed at using them like a double-barrel rifle. No more dinosaurs will bother tourists in the badlands again:)

Breck conquers the Badlands.
---

Mitchell Corn Palace was a fun stop. We loved the hotel in Mitchell and stayed going out and coming back. The pool was warm and the kids played for hours in the pool while Dave and I took turns in the spa.