Back to the shops! There were tons of handicrafts throughout the bazaar, and the owners were justifiably proud of their wares.

And what would an Egyptian market be without a bread delivery service or a fashionably-dressed woman - with her headscarf and Converse shoes - chatting on her mobile phone?


The handicrafts reminded us of the goods in the Istanbul bazaar,


And in the midst of all the commotion, it was gratifying to see that we were not the only people entranced by the market (to the point of stopping to take pictures!)


Breck had a heyday wandering around, as he kept coming across all sorts of goodies to be used for wargames. He found a helmet (above) and a couple of knives (below), and actually talked his father into getting him a sword in Luxor.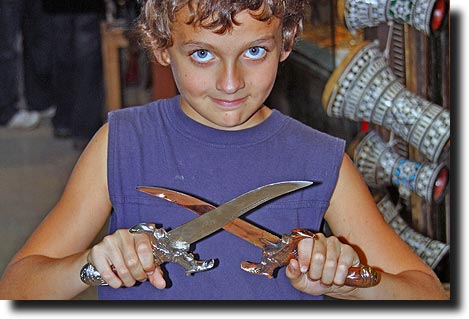 while the delivery services were second-to-none.

It was truly a buyer's paradise, with almost anything under the sun for sale.

But it was also a place for a quiet game of backgammon or a rest after the rain.